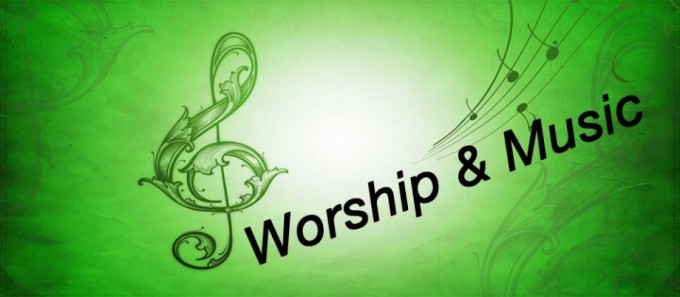 What is worship to God?
John 4:24 says that God is Spirit, and those who worship Him must worship in spirit and in truth.  This means that our personal worship is offering our entire selves to God (spirit) in agreement with God's word (truth).  This is in complete response to what Christ did on the cross as an offering for our sin filled heart.  Our worship (in other words) is in view of His mercy to us.  Therefore we are offering our whole selves to Jesus agreeing that He is truth and what He says about our hearts is truth (see Romans 12:1).
I say all this to say that music is one avenue to use in response to God's mercy toward us.  Music can be used as an expression of love back to God in view of what He has done for us.  As we sing to God and write songs about Jesus and the truth of His word we are expressing worship through music.  Many worship music.  Many worship their jobs or their image or their lives - but music, like those other things is a way to express worship to God not become an object of worship apart from God.
That is what we are about with our Music and our worship here at North Park.  We want to show God we love Him with our lives and our creativity that He has given us.  So we have fun in our worship music.  It is creative and dynamic.  We work hard to make the music sound good and to have depth and meaning.  We cover some worship songs but many songs are original songs that fit who we are at North Park and the type of ministry we have.  Much of the music we do is modern or current but with our own aspect of musicianship.  All of this culminates into a well rounded culture of worship with the music.  It is not always about energy and upbeat nor melancholy and low key.  We really pray and seek God each week about the music and the way it fits the series we are doing.  We ask God to guide the process so the music can be in step with the Holy Spirit meeting needs within our church family.  That is the best way I can describe the worship here at North Park Church.  Look forward to seeing you there!
Pastor Ryan Young
Worship and Arts Pastor North Park Church
Services and programs with worship:
Thursday Celebrate Recover 7:00pm
Friday evening service 5:30pm
Sunday morning worship services 9:00am and 11:30am
 Ephesians 5:18b-20 says -
Be filled with the Spirit speaking to one another with psalms, hymns and spiritual songs from the Spirit.  Sing and make music from your heart to the Lord, 20 always giving thanks to the Father for everything, in the name of our Lord Jesus Christ.